What are we produce
Mill Finish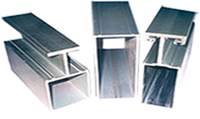 Our mill finish high quality imported Aluminum Billets equivalent to 6063 or made in our hot-top casting furnace from Aluminum PVC cable scrap.
We are producing according to international standards as produced by our Malaysian principals. We utilize best quality Aluminum Cable scrap to ensure quality. We extrude to international standards according to strictest quality controls to ensure that hardness, finish and tolerances are within the prescribed parameters of our customers.
Anodizing Finish

We have two anodizing units in operation. One in our Karachi complex and another one in Lahore, specially so that we can cater to our northern clients, stretching from Rahim Yaar Khan to Kabul, Afghanistan. We produce complete range of Anodizing products in Natural, Light Champagne, Champagne, Bronze, Brown and Black. We can match any shade in between light Champagne and Black according to our customer's demand.
Silky Powder Coating Finish

Our powder coating plant is the only one of its kind in Pakistan with daily capacity of 20 tons. It is highly sophisticated unit, totally automated with PLC controlled 8 guns booth. This results in an even coat of 80 microns to meet our international commitments. It has a 25 meter curing oven with a control panel capable of ensuring an even curing temperature throughout. The profiles are then bundled and packed in shrink wrap to ensure material reaching the clients in top condition.
Sino-Wood Grain & Effects Finish

Wood requires a great deal of maintenance. Especially in salt and wet air environment, wood windows and doors requires routine painting or polishing to prevent warping, cracking, rotting and sticking. Also with different weather conditions it expands and contracts, sticking in humid weather and creating gaps in cold, dry climate. It is a prime candidate for pest attacks, specially in our weather conditions. A raw timber frame is cheap but can be expensive once glazed and painted.
Keeping this in mind, we introduced `Sinowood', a product which looks and feels like wood, but without the negative baggage of wood described above. It is convenient, inexpensive and aesthetically pleasing just like wood but with all the advantages of Aluminum profiles.
Our `Sino-wooden' main gates and doors are extremely popular because of their looks and longevity.